CallnFax is a world leader in virtual telephone number providers,
offering a wide range of local, mobile, national, and toll-free numbers.
CallnFax is designed for Call and Contact Centers, Large Enterprises,
and any businesses needing scalable high-quality, global telephone service.
How can virtual telephone numbers benefit my business?
CallnFax is the go-to choice for businesses looking to leverage virtual telephone services. Our comprehensive coverage, Flat-Rate pricing, and scalability make us the perfect choice when purchasing global telephone numbers.
Choose from Local, Mobile, National, and Toll-Free Numbers
Our scalable, virtual telephone services are available in exactly the format needed for your business. Our inventory of virtual telephone numbers (DID's) is unmatched in the VoIP industry.
Our Local, Mobile, and National telephone numbers have Flat-Rate, Flat-Fee service saving your company a huge amount of money, particularly in high-volume Call Centers. These virtual numbers come with two channels and may be scaled up to 1000 channels.
Our selection of Toll-Free virtual telephone numbers covers essentially the entire globe. Toll-Free virtual telephone numbers convey a sense of trust and reliability for companies and come standard with 300 channels. These virtual numbers have a small per-minute charge and are very affordable. 
Extreme Reliability with Crystal Clear Voice Quality
Our motto at CallnFax is "Every Call Must Complete". Our virtual telephone numbers are all Platinum quality and served along Tier I Networks. Our Anycast DNS system routes your calls through carrier-neutral, all-fiber connectivity so your calls will complete quickly, with absolutely crystal-clear quality. 
Save time & money
Our virtual telephone service is designed to save you time and money compared to traditional phone services. It's fast, efficient, and cost-effective – giving you complete value for money!

Unlock Huge Savings
With Our Flat-Rate
Virtual Numbers
CallnFax offers a unique business model that will save your Call Center, Contact Center, or Global Business Money.
Our Flat-Rate, Flat-Fee Virtual Telephone Numbers have absolutely No Per-Minute Fees!
No matter how many incoming calls your Call Center receives, the fee remains the same. Unlike our competitors who charge a per-minute fee, CallnFax delivers the highest quality service, but without the extra charges. Our business model will save your company huge sums of money each month.
Take a look at how CallnFax Flat-Rate Virtual Telephone Numbers will save your company money: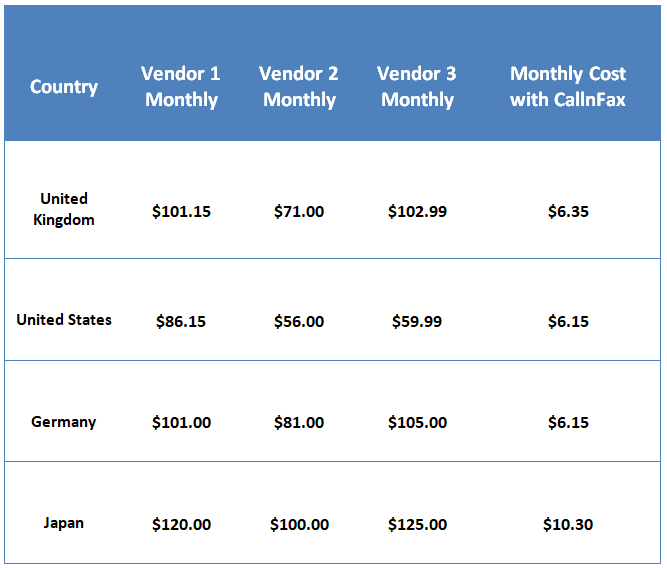 Can't find your location?
CallnFax can often locate and obtain virtual telephone service from almost anywhere. Even if you don't see the location in our active inventory, there is a good chance that we can get you that hard-to-find virtual number. 
Want more information?
Just fill out our form below, and one of our sales agents will assist you.
Virtual Number Request Form
Routing Your Inbound Calls:
Routing your Inbound calls in your CallnFax Dashboard is simple, logical, and quick.
No coding, no complicated setups, and CallnFax offers multiple options for routing your calls:
Direct to PSTN
SIP Trunking
Through the CallnFax PBX Via:

Interactive Voice Response (IVR)
Call Queues & Ring Groups
Finally to Your End-Point
CallnFax supports announcements in GSM Format and easy routing through our Dashboard.
Our Technical Team is ready to provide support, with Chat & Support Tickets accessible in our Dashboard.
The CallnFax PBX is included with your purchase, and includes 5-Users for no additional charge!