A Full-Featured Video Conferencing
and Meeting App at a Better Price
Secure Encryption
Meeting Recording
Moderator Control with Meeting Lobby
Whiteboard
Screen Sharing
Chat Feature
Mobile App
All of the features that you expect in a secure video conferencing web app, without the restrictions, and high price. As simple and easy to use as our competitors, but without the cost or long-term contracts. Just one monthly charge for all the features, but with none of the headaches.

What's the Cost?
USD $9.95 per month

Time restrictions? None!

Meeting room size?

Our Video Conferencing will support up to 100 participants in a single conference!
How do we compare with our competitors?
Same features at a better price

No time restrictions during meetings

One price for all accounts, and no long-term contracts billed monthly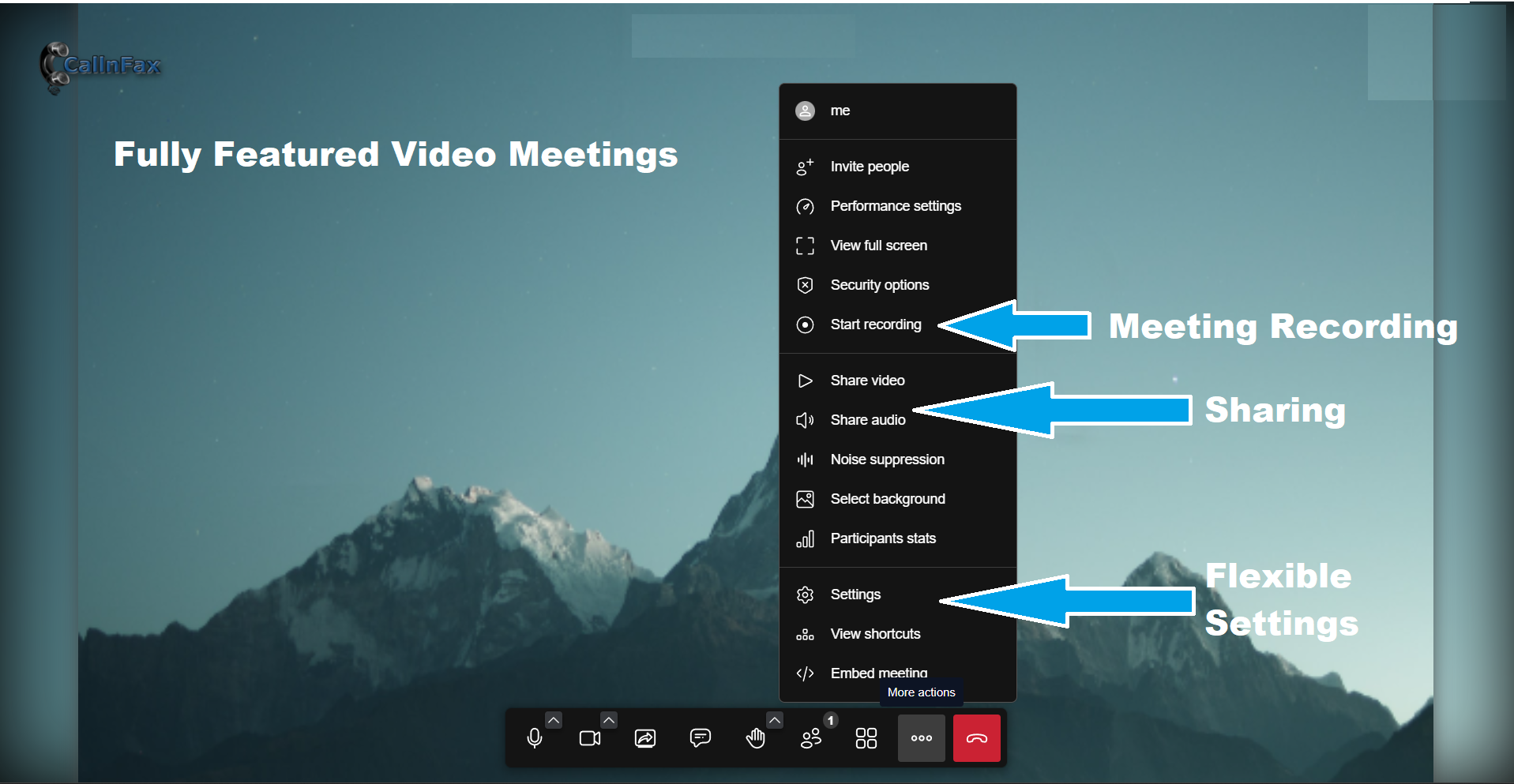 When choosing a video conferencing app, there are several factors to consider, including:
Features: CallnFax offers all of the features you need for your meetings or events, such as screen sharing, recording, virtual backgrounds, and chat functions
User interface: CallnFax is easy to use and navigate, with clear instructions and minimal technical difficulties. Our interface is easily recognized if you have used other similar products
Compatibility: CallnFax works with your computer or device and operating system, as well as those of your participants.
Security and Privacy: CallnFax security and privacy policies, including encryption, data protection, and the ability to control access to your meetings utilize the most up-to-date encryption algorithms.
Price: CallnFax delivers the same features as our competitors at real cost savings, with monthly billing and no long-term commitments.
Get $5.00 off your first
month's subscription
Use Coupon Code
MC2GMAEY

Purchase Our Video Meeting Service Today!
Don't forget Coupon Code MC2GMAEY
Need more information before purchasing?
Fill out our contact form below, and we will happily answer any questions that you have!